"you can combine fixed phone numbers with mobile devices and computers.."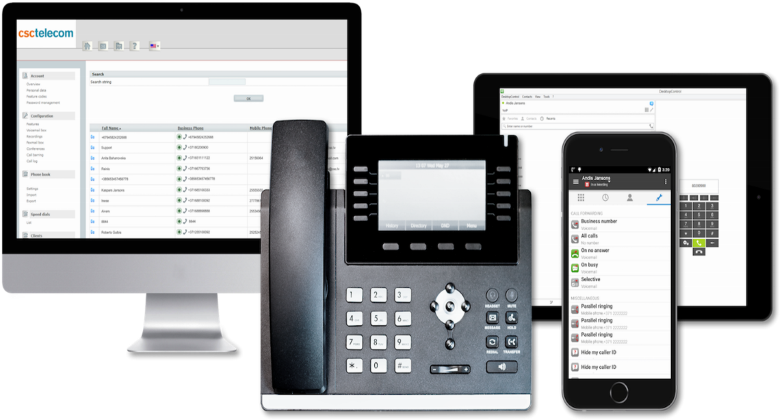 Cloud PBX is a modern virtual phone central system
Businesses nowadays aim to be more flexible than ever before, and this includes telephony enterprises. While in the past, it was essential to have a local PBX, the trend is currently moving towards cloud-based solutions. In this context it is important to note the essential technical differences between the two models, IP centrex and managed PBX.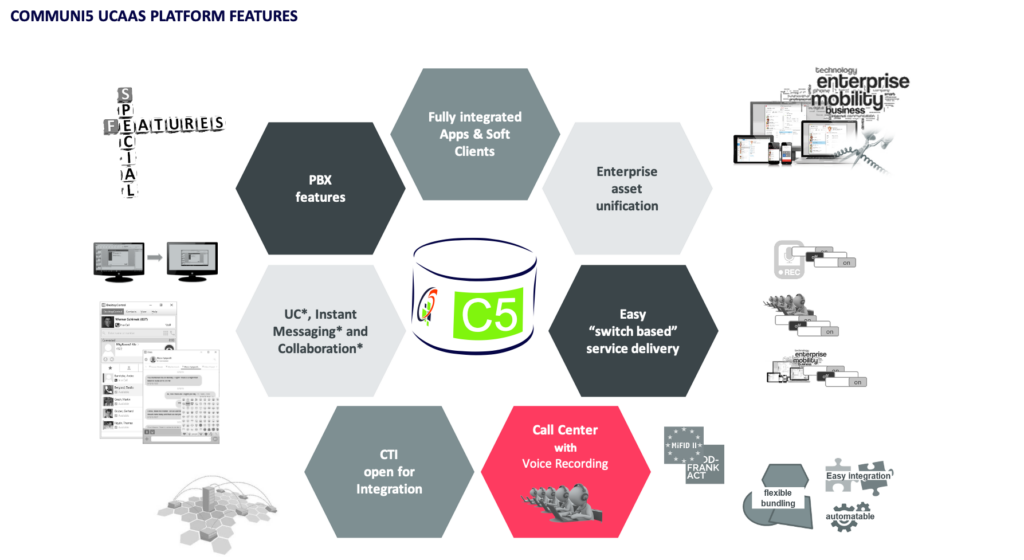 IP Centrex, or Cloud PBX
Managed PBX
The term Centrex is derived from Central Office Exchange. It refers to a physical system made available by a provider and used by all of the provider's customers. Operational and maintenance costs are shared by all users, making it considerably more economical for the individual companies, who pay a fixed monthly price per workplace/extension. A company sources all of its telephony and its telephone system from just one provider. The advantages are clear to see:
The term Centrex is derived from Central Office Exchange. It refers to a physical system A managed PBX is of more interest to companies who want an individual solution. In this case it is a cloud-based telephone system only accessible to the company and its staff. This enables a level of customization that is not possible on shared servers. There are however disadvantages:
-Maintenance and updates are carried out automatically
-Different solutions, such as basic, comfort and premium, can be easily booked and cancelled as needed
-System operation and administration are designed to be as simple as possible
maintenance and update tasks must be carried out by the company itself, and the overhead for administration must also be calculated, which can be cost-prohibitive for small and medium-sized companies.
MS Teams Integration
The best of both worlds
Microsoft Teams offers communication tools – such as chats, online meetings, common notepads and the like – and in doing so has inserted itself firmly into modern office life. We make sure that your staff are still reachable on their usual numbers when they work with the Microsoft Team software. This combination offers the best of both CSC TELECOM Call manager and Microsoft worlds.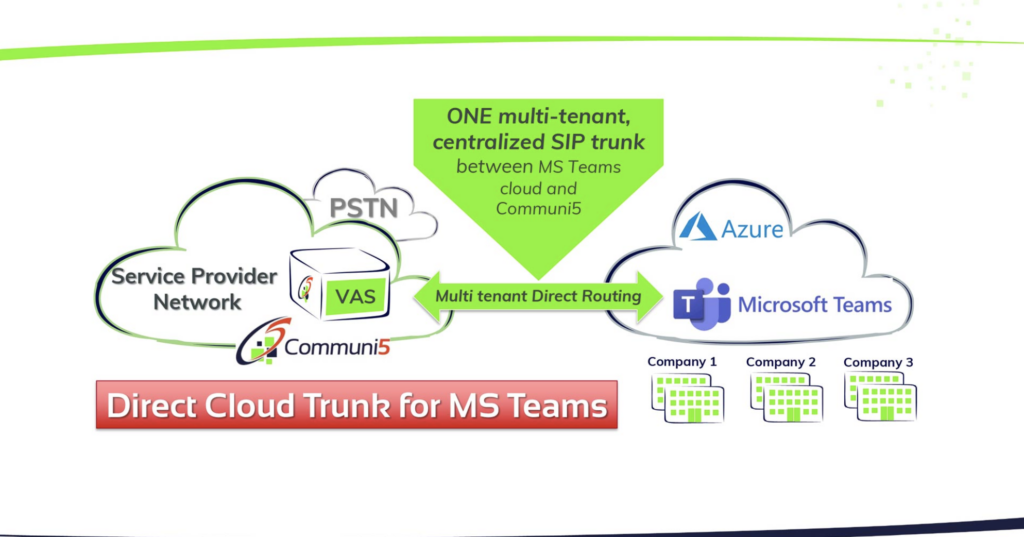 The best solution. Always.
When it comes to working together, Microsoft Teams is definitely one of the best solutions, and one that undergoes constant development. Of course it contains voice functions, but that is not Microsoft's main focus. However, in an enterprise there will always be staff members who need just that, some even more than they need collaboration solutions. That is why it makes sense to implement your company's telecommunications with a Communi5 platform, and to connect both systems over a SIP trunk (direct routing). The users can then choose themselves how to make calls – either with Communi5 clients or Microsoft Teams clients.
Advantages for the service provider
-One Cloud Trunk for all your Customers
-No local E-SBC required
-Lower bandwidth/license requirements -Simplified deployment
Mobile Services
Mobile services are the backbone of today's communication, allowing complete location-independence to users of voice and UMS services. They no longer have to be at their desks all the time, and can decide when and for whom they are reachable over their company landline number.
-An intelligent app (Softclients) that transforms the smartphone into an extension
-Available for IP Centrex and Value-Added Trunking
-Available for iOS and Android
Native integration of a mobile phone without a client (Mobile PBX) ,
an expansion of the CloudPBX, enables you to transform any mobile phone into an extension.
Features:
- Mobile phone becomes a PBX terminal device
- Landline number is used for incoming and outgoing calls
-The mobile can dial extension numbers like a PBX phone
-BLF information provided for outgoing calls from the mobile
-Additional features when combined with the MobileControl app (UMS box, rich presence, etc.)
For existing telephone systems
The system is designed to suit business customers, allowing service providers to offer mobile services to standard business customers who have a telephone system (SIP trunking): Users connected to an existing system can use the softclients and smartphone apps. All that is required is that the PBX is connected over a business trunk (see Value Added Trunking /Sip Trunking 2.0).
Value-added services -One Number Service – location-independent business communication over the main number
This puts an end to the chaos of having too many numbers. The company main number + individual extension number becomes the central point of contact for every staff member, regardless of where they are at any given moment.
-Increased productivity
The mobile services provide access to call lists, voice and fax messages, at all times and from all locations. And availability can be controlled using the Rich Presence feature.
-Ideal solution for every work situation
We offer the perfect solution to support every type of modern workday, be it home office with a headset, sitting at a desk using an IP desk phone, or on the go using a mobile. And all that with uniform usability across every platform.
-Modern, easy-to-use, and secure
Mobile Services are the answer to your staff requests for modern equipment. They also satisfy the demand of your IT department for simple rollout and operation, as well as uncompromised security. That might sound impossible, but Mobile Services can do it:
-BYOD increases staff satisfaction because it allows them to use their own devices within the company environment
-Simplest possible rollout thanks to auto-provisioning
-Encryption during configuration and communication guarantees data security
-Mobile services for residential customers
-Mobile services provide location-independent use of the voice and UMS services, ideal for private customers because they support the paradigm shift to the work environment:
The advantages of COMMUNI5 Mobile Services are obvious:
-Never miss another call – even when they only have their mobile phone to hand, users are still reachable over their landline number.
-Cheap calls while abroad – using their own landline number for calls to the home country saves money.
-The service provider can increase customer binding by offering value-added services.
Call Center No Hardware. Just one Software. Many possibilities.
Call Center – no unforeseen costs
The integrated Call Center offers business customers everything from a single source, meaning that no further costs are incurred to integrate third-party products. Information such as presence and call status, access to the company phone book can be easily used with the DesktopControl and DesktopOperator softclients. This improves and optimizes the process and shortens waiting times for the customer.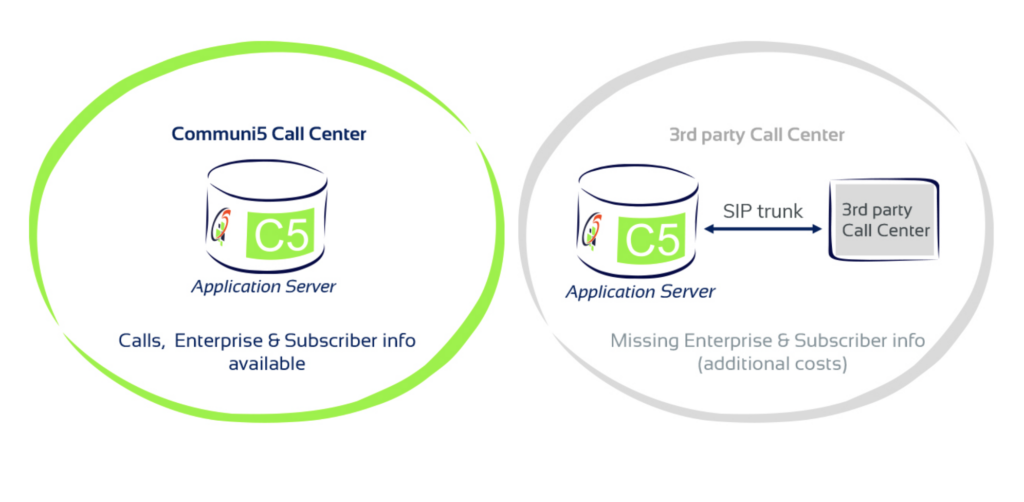 Why use the CloudPBX Call Center solution?
Classic call centers demand a lot of prerequisites that require high initial investment costs. They remain expensive due to the cost of maintenance, rent, etc. Our solution drastically reduces these costs. The cloud solution is scalable and can be tailored to suit company needs as they arise. This allows small and medium-sized companies to offer additional customer service at no great financial risk.
The advantages at a glance
-No additional software needed
-Cloud hosting by the service provider
-Cloud-based infrastructure eliminates service downtime
-Meets the needs of small and medium-sized call centers
-Provides agents with access to all necessary information (BLF, phone book, rich presence)
-Optimized communication
- Supervisors can analyze and optimize call center processes
- IVR allows callers to target their queries via a self-care interface, shortening the length of their calls and thereby reducing costs
Unified Communications (UCaaS)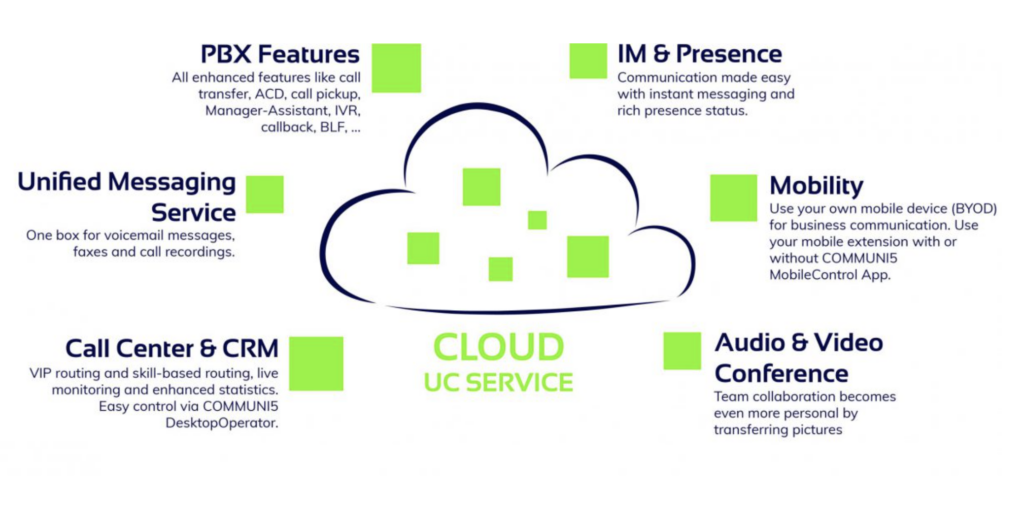 The current trend towards flexible working conditions requires that the channels of communication and data access are networked. Modern employers allow their staff to access their emails, fax messages and documents from any location and to share and discuss them with their colleagues. While this requires compliance with security standards, it also offers the time flexibility and effective performance that is becoming increasingly popular and is expected by the workforce.
Collaboration Unified Communications Functions
CSC TELECOM Collaboration Applications provide a simple and effective method of communication for an enterprise. They improve internal communication as well as communication with partners, suppliers and customers. Whether you are at home, on the road, or at your desk, our solution provides you with the same communication possibilities. In addition to the desktop clients for Windows and MacOS, CSC TELECOM offers all of the functions for your Android and iOS mobile devices.
Presence Management
Unsuccessful calls cost time, energy and, in the end, money. Our solution provides you with an overview of the availability of your colleagues. Are they on the phone? In a meeting? Targeted use of the voicemail box can provide callers with useful information even in the absence of the desired agents.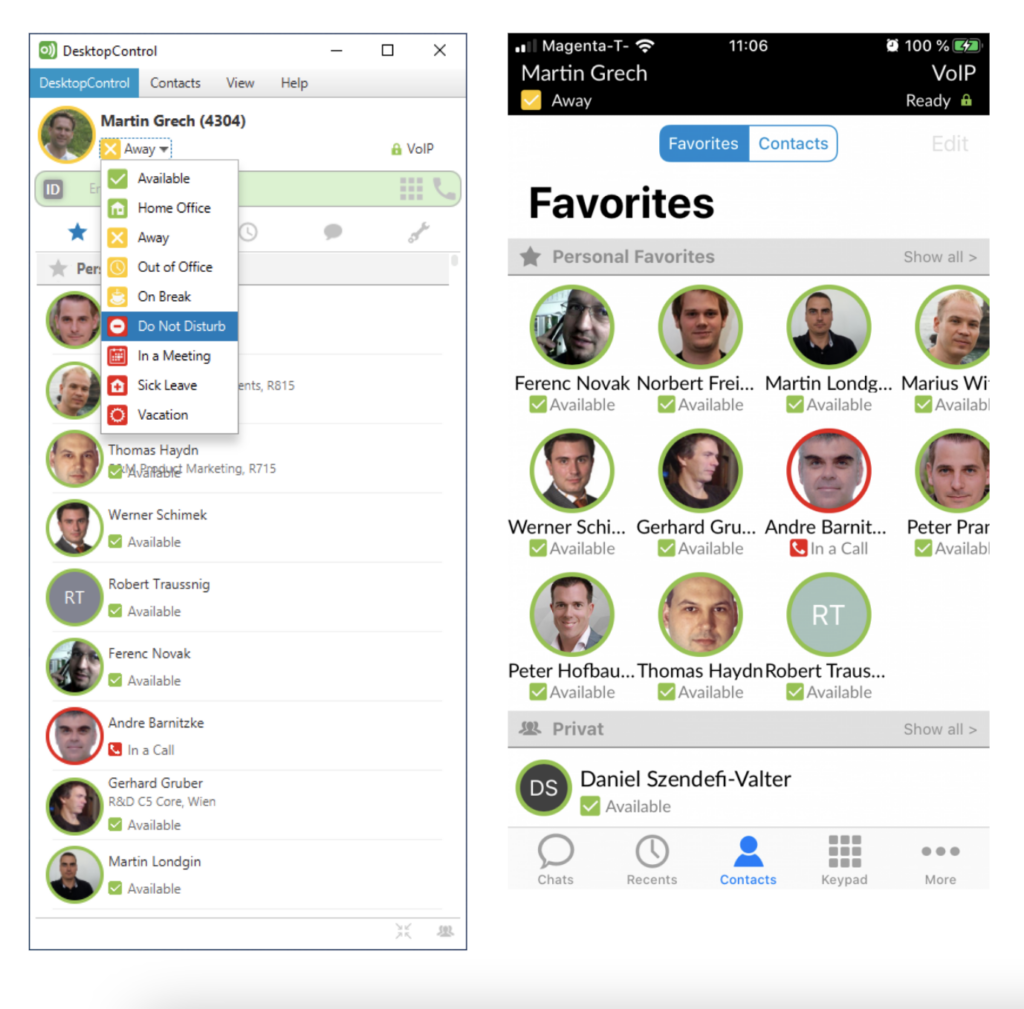 Functions
-9 pre-defined activities
-10 freely definable activities
-Group rights based on room concept
- Synchronization between the CSC TELECOM Softclients
Instant Messaging (Chat)
There are plenty of ways to contact colleagues, e.g. e-mail, phone, etc. But the shortest and most effective way to exchange information is by chatting. Every chat message is signaled by a popup on the PC screen and mobile, and can be dealt with immediately. You can start a chat on your PC in your office and continue it seamlessly on your mobile on the way home. You will not miss any messages because they are all stored in the chat journal and can be read at any time, from any location.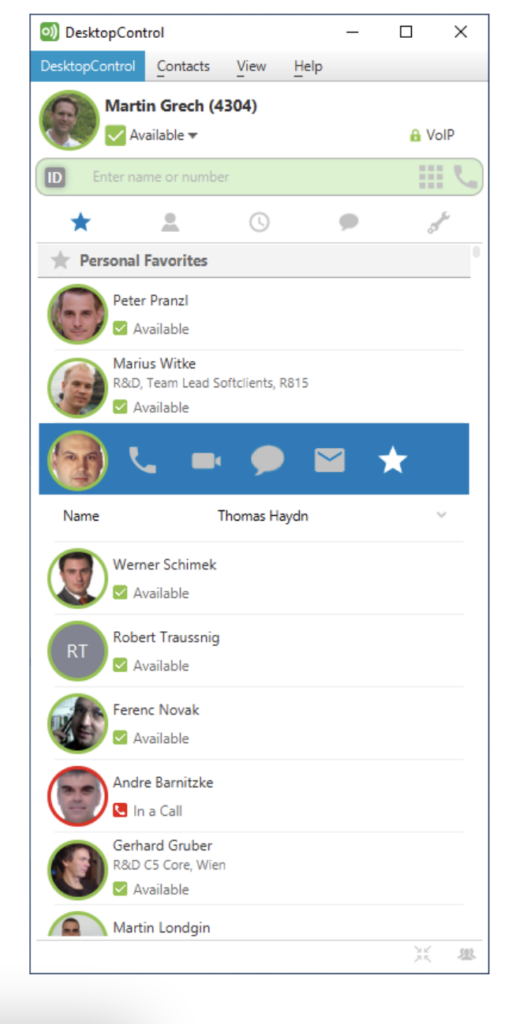 Functions
-1:1-Chats
-Chat rooms (permanent and ad-hoc)
-File and image transmission
-Emoticons
-Chat journal
-Seamless conversation on all terminal devices
-Desktop and mobile phones
-Push notifications for the mobile application
Screen Sharing
This function is designed for collaborative work on designs or presentations. Start a simple audio or video conference and then add the screen sharing session. All participants, no matter where they are, can access the file and work together to find the best possible result. You do not need a session ID or additional software.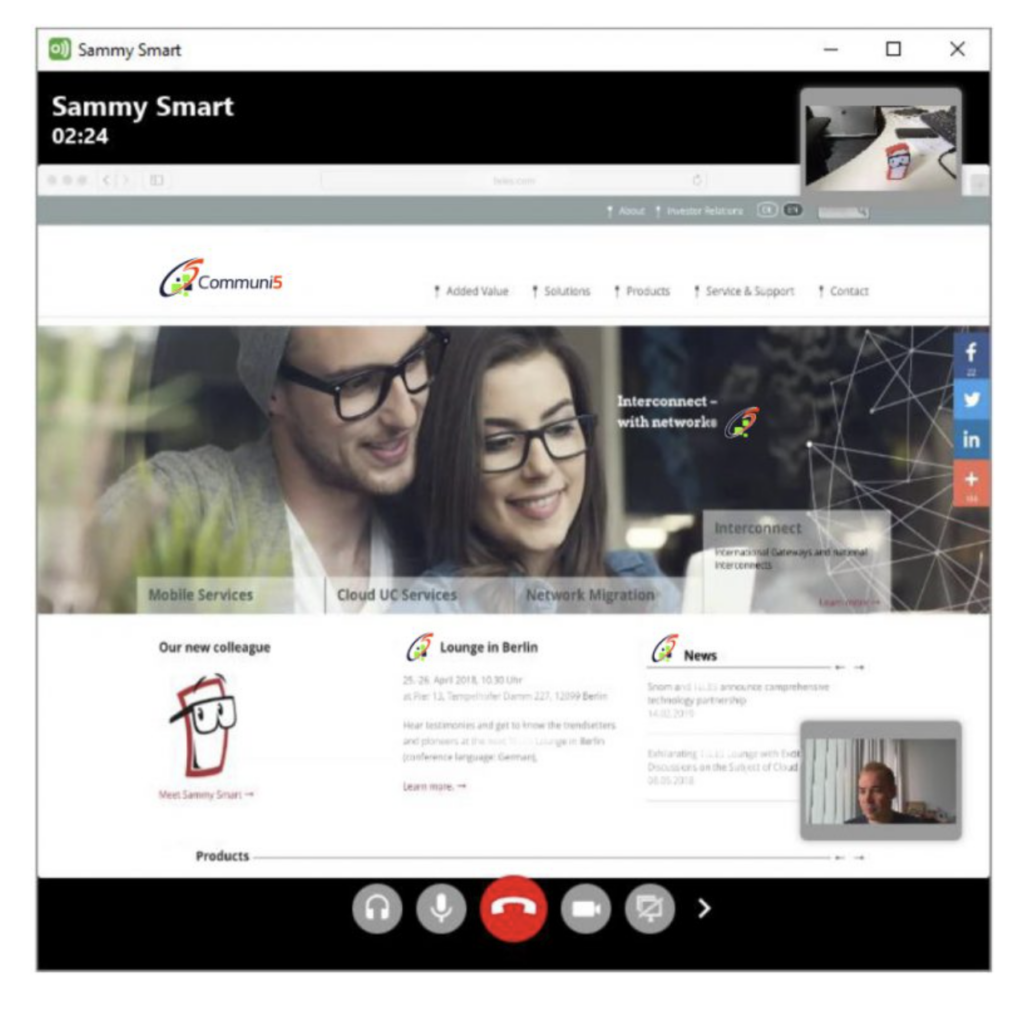 Functions
-1:1 Screen Sharing
-Screen Sharing in conference rooms*
-Share the entire screen or just one application
-Multi-monitor: Select the monitor you want to share
-Transmit the cursor
-Encrypted transmission
Advantages
-No software installation needed
-No session ID needed
-Saves travel costs
Conferences and Guest Participants
Telephone conferences are an important communications tool in an enterprise. Configuration must be intuitive, regardless of whether it is for an internal company conference, or an external conference with customers and partners. The CSC TELECOM CloudPBX DesktopControl app can set up both ad-hoc and planned conferences very easily. Internal participants can see the conference in their clients and can join from there. Customers and partners (guest participants) are invited by e-mail, and can join the conference without having to install any additional software (CSC TELECOM CloudPBX WebMeet *). The advantages of our solution can be enjoyed by all participants, internal and external.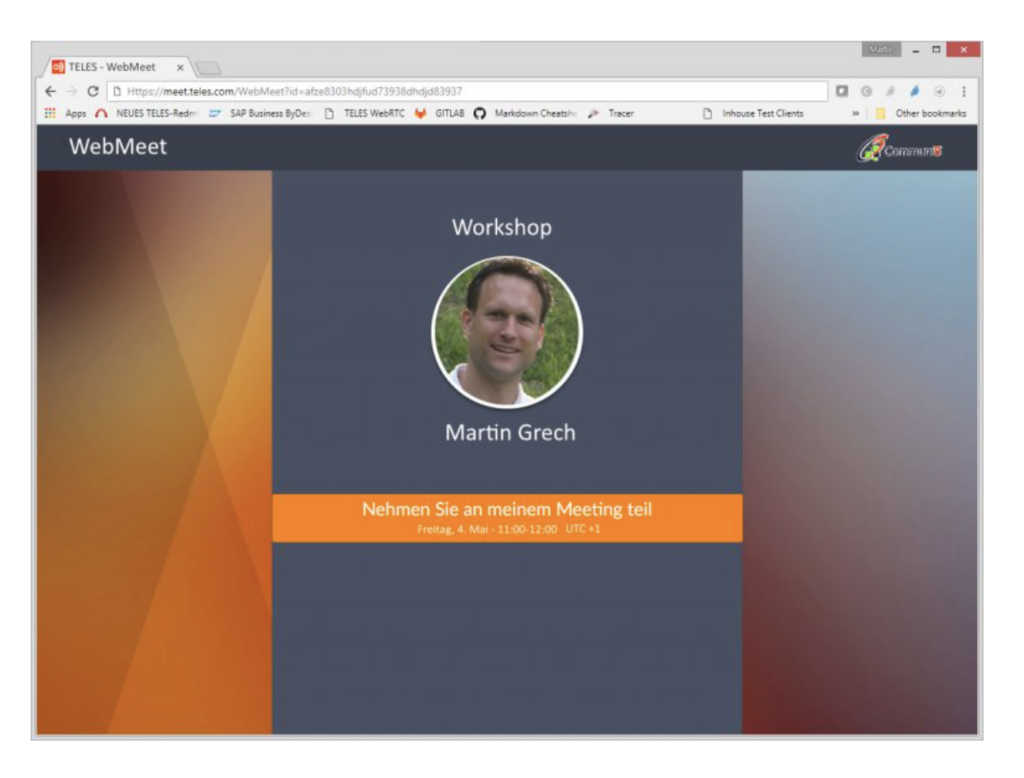 Functions
-Audio and video conferences
-Video up to Full HD (H.264, VP8)
-Guest participant access via CSC TELECOM WebMeet (WebRTC)
Softclients
In today's world, employees use a mobile, a deskphone and a PC in the course of their work. In order not to miss anything important, they have to check three devices for new calls, messages or e-mails. That is very time-consuming, and in the case of deskphones, virtually impossible. You cannot check your deskphone while you are on the go. Therefore, one of the most important tasks for a company has to be the simplification of their communications.
CSC TELECOM provides the perfect solution. Each employee can be reached on any of their devices but on just one number. They can access their files at all times, and change location during a call with our patented handover technology and using WiFi and mobile networks. Better reachability at a lower cost!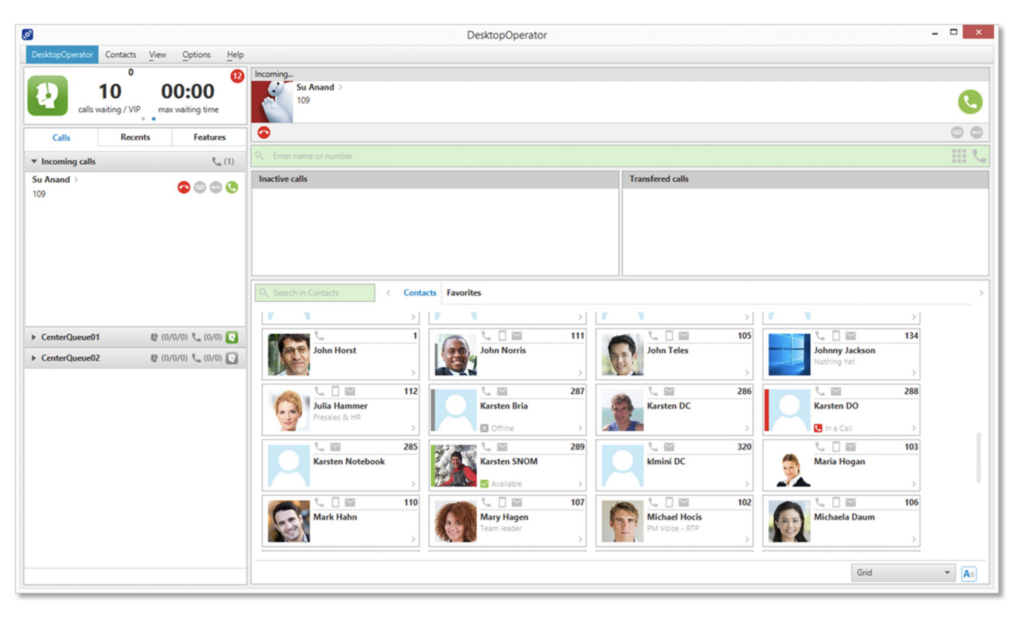 Desktop Functions
-Softphone – telephony using a PC with or without a headset
-CTI – control the device used
– deskphone or mobile – from the PC
- HD audio and video – crystal-clear sound and sharp images
- Handover – seamless switch from deskphone to mobile during calls
-Instant messaging (1:1, group chat) – easy collaboration, with text, images, files and emoticons
-Screen sharing – work together on documents
- Rich presence and BLF (Busy Lamp Field) – keep track of everyone
-Visual voicemail – quick and easy access to voicemail messages and information about the call itself
-Visual faxmail – receive eFax messages on your PC
-Call recording – listen to a recorded conversation again
-Outlook plug-in – make calls directly from your Outlook address book
-TAPI and Action URL support for the integration of CRM and third-parties
-Integration of diverse programs and products, e.g. PBX, Enterprise, Outlook, etc.
-Automatic configuration
Mobile Functions
-HD audio and video
-Instant messaging (1:1, chat rooms)
-CallKit (iOS) support
-Push server for calls and new messages
-Single-number service
-Presence management and call status information
- One box for all voice and fax messages, and call recordings
-Company address book
-Control the most important PBX functions
-Supports VoIP, callback, callthrough
-Seamless handover between GSM and WiFi, UMTS and LTE calls
Highlights
-Seamless handover of calls
- Swap call
-Switch back and forth from deskphone to mobile during a call without service interruption
-Home office -Get your business calls on your mobile and control them with DesktopControl (CTI)
-Group chat-An efficient way to work in groups
-Everything at a glance, and always synchronized -Contact groups, call journal, BLF, presence information, voicemail, fax – all of this is available on your mobile and with DesktopControl on your PC.
-DesktopOperator – staying on standby
DesktopOperator – staying on standby
DesktopOperator is a convenient and practical switchboard client designed by CSC TELECOM CloudPBX with receptionists and call center agents in mind. The application provides operators with an easy way to take customer calls while providing relevant information about the caller. The integrated phone book shows the status of the users (busy or free) and rich presence information about staff (e.g. in a meeting, out of office) within the company. No new terminal devices are needed thanks to the integrated softphone. The CSC TELECOM CloudPBX Call Center improves initial customer contact by integrating your CRM system.
-For call center agents and receptionists
-Displays user status in real-time
-Intuitive user interface for speedy call acceptance and forwarding
-Quick and professional user management
-Allows co-branding and white labeling for customization
Advantages of CSC TELECOM CloudPBX Softclients
-Full integration in the UCaaS solution
-Guaranteed interworking between client and server
-Automatic updates
-Full end-to-end responsibility
- One single point of contact
Call Recording
CSC TELECOM always has a suitable solution at hand, be it for documenting call data, for improved quality of service in a call center, or for recording mobile calls. The Session Recording Server (SRS) is an economical solution for call recording in a business environment. The recordings are managed via a web-based portal, and the data can be searched for particular items. The SRS is based on the SIPRec standard, allowing integration of third-party products based on that standard.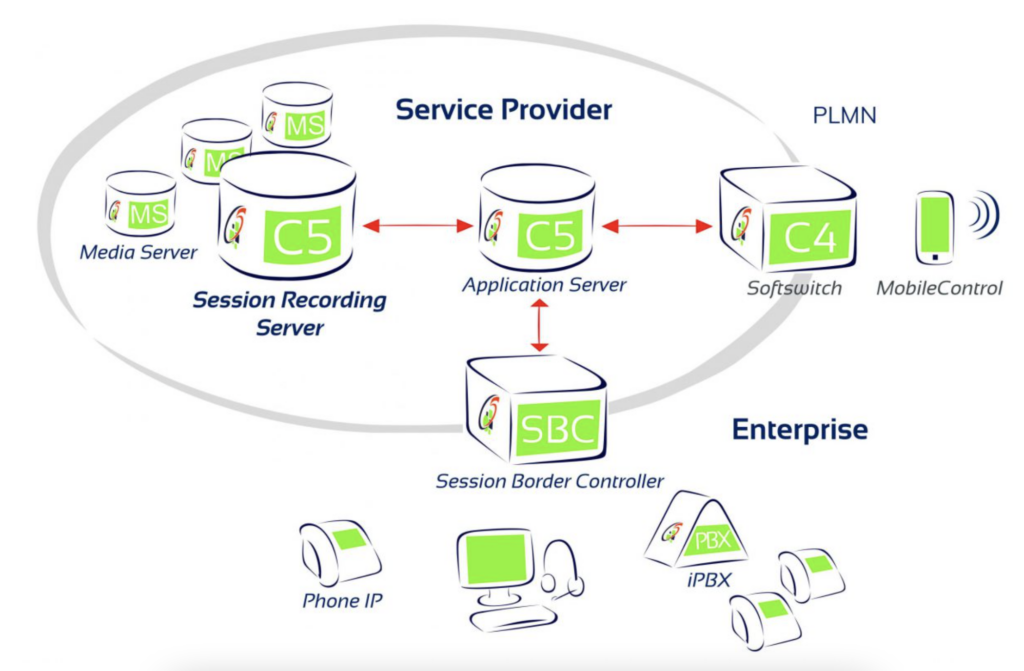 Advantages
-Economical
-Easy access over a web-portal

-Standardized SIPREC interface
Business Trunking
Digitalization has been on the march for some time now and will not be stopped. A major issue in this context is the move from classic ISDN telephony to the use of IP networks. The advantages are so great that almost all telephone connections in Europe will have changed to All IP by the end of this year. For some time, business customers, aware of the advantages of Internet telephony (Voice over IP) in terms of quality and cost, have switched to VoIP-capable terminal devices. Using business trunking solutions, network providers can create full service packages that are based entirely on VoIP, ranging from the flexible handling of number blocks to CTI services in the cloud with smartphone applications. Entry-level solutions offered by network providers to business customers who are wary of investing in new IP-capable terminal devices promise particularly lucrative returns.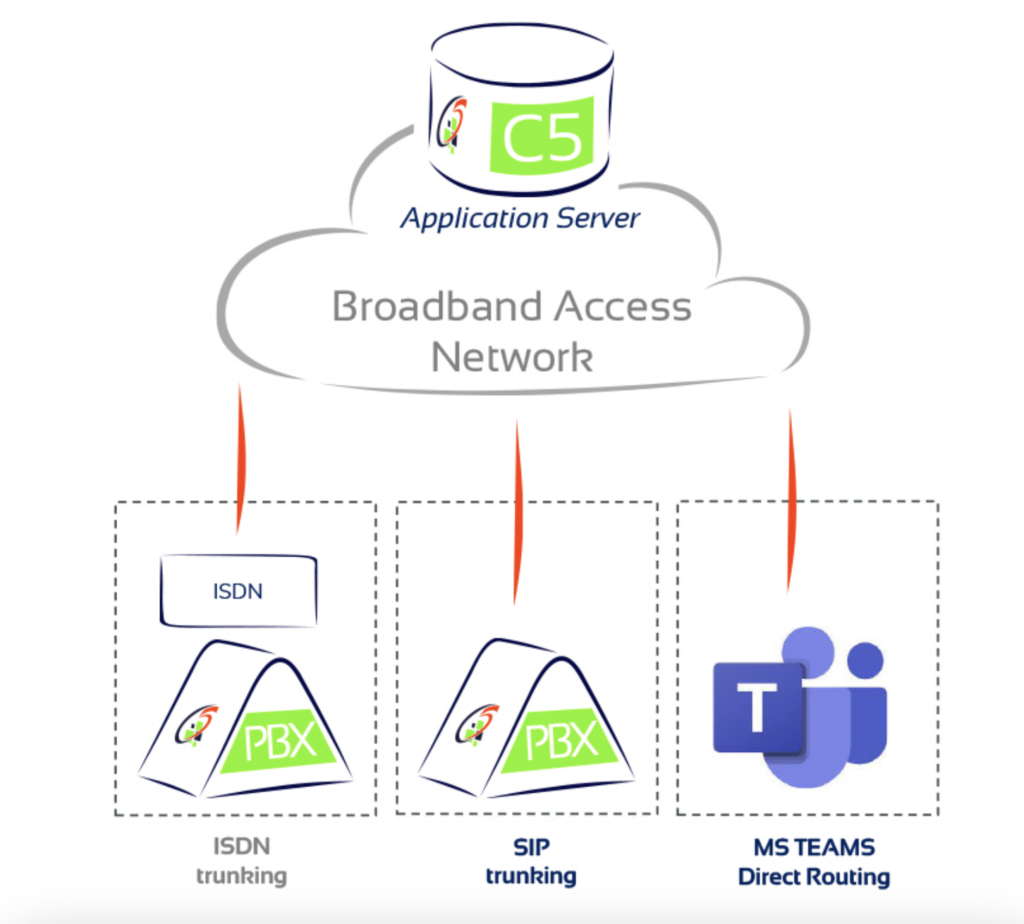 The advantage here – business customers enjoy the full flexibility of VoIP communication without any hidden costs or training expenses for new devices such as an IP telephony system. From a technical point of view, the subscriber line functions just like a conventional ISDN line. Network providers also profit quickly from this flexibility. The high-availability business trunking solution complies with all regulations, allowing the network provider to offer economical and flexible entry-level solutions to their customers.
The Business Trunking solution contains:
-ISDN PRI and BRI trunking
-SIP trunking (SIP PBXes)
-MS Teams (Direct Routing)
Value-Added Trunking /SIP Trunking 2.0
Thus it offers service providers the chance to bind customers at a very early date. This solution allows value-added services to be offered to SIP trunk users. This includes softclients for nomadic users, voicemail box, IVR services, and call recordings, to name a few. In this way, customers can migrate seamlessly from a SIP trunk to value-added services and finally to a UCaaS solution at a later point in time.
PBX Features
Improving the foundations of successful communication
Collaborative work has never been easier – our CloudPBX offers all of the functions of a modern telephone system in a very uncomplicated way. Whether your staff are sitting in the office, on the go, or at home anywhere in the world, they can connect to your telephone system at any time without any difficulty. Basic functions such as switching between calls, being reachable on more than one device, and holding and forwarding calls, are considered standard nowadays, and are obviously included. However, our product offers even more easy-to-use functions to make the workday run even smoother.
Convenience functions Busy lamp field
See who is on a call and who is free BLF allows you to monitor the status of your colleagues' phones by assigning their numbers to the lamps on your phone and with the CSC TELECOM CloudPBX softclients. When a lamp lights up, you know that the person with that number is currently on a call. If you have the pickup function and see that a colleague's phone is ringing, you can take the call yourself by simply pressing the appropriate button on your phone.
On-hold music Have your own music played when you put a caller on hold.
Mobile phone integration
– with "Follow Me" You can set this up to include your mobile device in the routing configuration for your main number. Your mobile will ring at the same time as your landline, or at some time after that. The latter feature is called Follow Me. It allows you to define a target that will ring at a defined length of time after your landline. The target can be your mobile or another landline.
– With the smartphone app Transform your landline number into a mobile number with a smartphone app. All you have to do is set up the VoIP target that is linked to the number, and then you can take calls to your landline anywhere. CSC TELECOM CloudPBX offers apps for iOS and Android.
– As a mobile PBX
Multi-location – group various locations into one system. It is very easy to manage numbers with different area codes with a cloud telephone system. Just form the locations into groups. Staff in Vienna and Berlin, for instance, can work together as if they were sitting next to each other. Numbering plan If you want to migrate existing locations and their numbers, you can do it without changing the numbers for the locations. All you have to do is assign a unique code to each location. The code is used in front of the existing numbers, thus avoiding any overlap in the numbering plans. Speed dialing Cloud telephone system users only have to dial a defined speed dial number, rather than the complete number, to reach an extension.
Managers Call queues (ACD) With a click of the mouse you can add a call queue that puts callers through immediately without having to listen to an anonymous ringing tone. Create a hunt group to handle the calls efficiently and evenly.
Tailored answering service Create different answering machine messages for different situations. You will be informed of new messages by e-mail or text message.
Busy lamp field with call pickup function These two features together improve efficiency. You can see if a colleague is on a call, and if an unoccupied phone is called, you can take the call yourself by just pressing a button on your phone.
Classic group calls Do you want an entire department to be reachable under one number? You decide which end devices that will be covered by this number. This allows you to set up teams for a hotline, for example, or to ensure that a staff member is reachable at several different desks at the same time. You can also create a fixed order that has target A ringing for a set time before target B starts to ring because the call was unanswered.
Parallel ringing Groups can include external phones such as mobiles, as well as IP phones. They all ring when your extension number is called.
Night mode Every workday comes to an end! This does not mean that calls stop coming in. Use night mode to define what happens to calls after you have left. You can have them forwarded to a colleague or an answering machine. Or you can record a message giving your business hours, but not allowing the caller to leave a message.
Fax2Mail and Web2Fax Forget about the conventional fax machine. This feature allows you to send and receive fax messages without using any paper. VAS works with an online fax function. Incoming faxes are e-mail attachments in PDF format, and thus free of charge. You can send faxes online, using a tablet, smartphone or PC.
PIN-protected conference rooms The conference function is perfect if you want to talk to several people at the same time. The use of a PIN ensures that only people who were given the PIN actually have access to the conference.
Autoprovisioning (Zero touch) You can configure your IP phones automatically in the CloudPBX, to save time and energy. Click here for a list of supported phones.
Selfcare Portal – staff access You can grant your staff permission to manage some terminal devices and extensions themselves. That way they do not have to contact the administrator for every single call forwarding activity. Functions such as call forwarding, answering machine, and night mode can be set up, activated and deactivated using OfficeDesk.
Outlook and TAPI The TAPI driver allows you to call numbers directly from Windows programs, such as Outlook. When you click on the number, your phone rings. The call is set up when you pick up.
Premium Functions
-UMS Box (Visual voicemail/faxmail/recordings)
-Permanent call recording
-Manager Assistant
-Call Completion Busy Subscriber (CCBS) and Call Completion No Reply (CCNR)
-Handover Desktop
– Mobile telephone (Swap call)
-Handover between 2G/3G/4G/5G
-Push Server for incoming calls and Instant Messaging
-Presence Management
-Cloud LDAP phone book
-Instant Messaging (Chat)
-Video
-Screen Sharing
Premium Solutions
MS Teams
Call Center